Listed below are some ideas of how to start and finish an inscription inculding verses and poems. We have included two examples of inscriptions.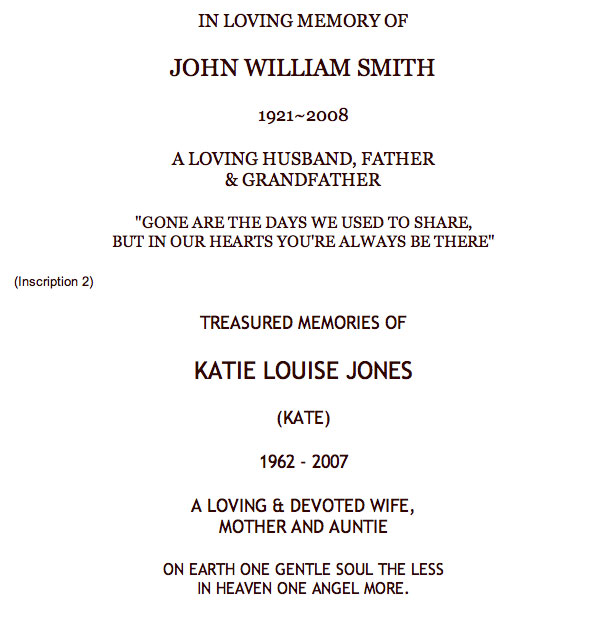 IN LOVING MEMORY OF
CHERISHED MEMORIES OF
IN REMEMBRANCE OF
TREASURED MEMORIES OF
TO THE DEAR MEMORY OF
SACRED TO THE MEMORY OF
IN AFFECTIONATE MEMORY OF
FOREVER IN OUR HEARTS
SADLY MISSED
WHO ENTERED INTO REST
WHO FELL ASLEEP
WHO PASSED AWAY
WHO DEPARTED THIS LIFE
AT REST
REUNITED
IN GOD'S KEEPING
LOVE'S LAST GIFT REMEMBRANCE
TOO DEARLY LOVED TO BE FORGOTTEN
GONE FROM US BUT NOT FORGOTTEN
RESTING IN THE LORD
FOREVER IN OUR HEARTS
THE LORD IS MY SHEPHERD I SHALL NOT WANT
PEACE PERFECT PEACE
GRANT HIM THY ETERNAL REST
REST AFTER WEARINESS
THY WILL BE DONE
REMEMBERED WITH A SMILE
HE LIVES FOREVER IN OUR HEARTS
LOVED AND MISSED BY ALL THE FAMILY
THE FLAME OF YOUR LOVE STAYS WITH FOREVER WITH ME
MEMORY IS A GOLDEN CHAIN THAT BINDS US UNTIL WE MEET AGAIN
ON EARTH ONE GENTLE SOUL THE LESS IN HEAVEN ONE ANGEL MORE
FATHER IN THY GRACIOUS KEEPING LEAVE WE NOW OUR LOVED ONE SLEEPING
HIS LIFE A BEAUTIFUL MEMORY HIS ABSENCE A SILNET GRIEF
TO LIVE IN THE HEARTS OF THOSE WE LOVE IS NOT TO DIE
GONE ARE THE DAYS WE USED TO SHARE, BUT IN OUR HEARTS YOU'RE ALWAYS BE THERE
ALWAYS IN OUR THOUGHTS FOREVER IN OUR HEARTS IF TEARS COULD BUILD A STAIRWAY, AND MEMOIRES CREATE A LANE, WE WOULD WALK RIGHT UP TO HEAVEN AND BRING YOU BACK AGAIN
MEMORY IS A GOLDEN CHAIN THAT BINDS US TILL WE MEET AGAIN
ALL THROUGH YOUR SUFFERING GREAT, PATIENCE YOU BORE TILL GOD CALLED YOU HOME TO SUFFER NO MORE.
WE MISS HIS SMILE, HIS CHEERY WAY, WE MISS THE THINGS HE USED TO SAY, AND WHEN OLD TIMES WE OFT RECALL, IT'S THEN WE MISS HIM MOST OF ALL.
WE CANNOT BRING THE OLD DAYS BACK, HER HAND WE CANNOT TOUCH, BUT WE HAVE SUCH LOVELY MEMORIES, OF THE ONE WE LOVED SO MUCH
HE WAS A FATHER SO VARY RARE, CONTENT IN HOME AND ALWAYS THERE, UNSELFISH WAYS AND HEART OF GOLD, NO FINER FATHER THIS WORLD COULD HOLD.
SHE GAVE US LOVE IN FULLEST MEASURE CARE, DEVOTION, MEMORIES TO TREASURE, IN OUR HEARTS SHE WILL ALWAYS LIVE, THIS DEAREST MOTHER GOD COULD GIVE
GOD SEES WHEN THE FOOTSTEPS FALTER, WHEN THE PATHWAY HAS GROWN TOO STEEP, SO HE TOUCHES THE DROOPING EYELIDS, AND GIVETH HIS LOVED ONES SLEEP
LOVING AND KIND IN ALL HIS WAYS, UPRIGHT AND JUST TO THE END OF HIS DAYS, SINCERE AND TRUE IN HEART AND MIND, A BEAUTIFUL MEMORY LEFT BEHIND
GONE ARE THE DAYS WE USED TO SHARE, BUT IN OUR HEARTS YOU'RE ALWAYS BE THERE
IT BROKE OUR HEARTS TO LOSE YOU, BUT YOU DID NOT GO ALONE, FOR PART OF US WENT WITH YOU, THE DAY GOD CALLED YOU HOME.
JESUS CALLED A LITTLE CHILD UNTO HIM
A TINY FLOWER LENT NOT GIVEN TO BUD ON EARTH AND BLOOM IN HEAVEN
TOO FRAGILE FOR THIS EARTHLY PLACE GOD KISSED YOUR ANGEL FACE, HE TOOK YOU IN HIS TENDER CARE SO LOVED AND CHERISHED, EVER FAIR.
GOD GAVE A TREASURE FOR A WHILE, TO FILL US WITH LOVE AND THEN HE TOOK OUR DARLING CHILD TO DWELL WITH HIM ABOVE.
REMEMBERING A TINY ANGEL
SLEEP, MY LITTLE ONE, SLEEP
A LIGHT IS GONE, A VOICE STILLED, THERE IS A PLACE IN OUR HOME NEVER TO BE FILLED.